Our Story
From Family Business to Generics Pharmaceutical Powerhouse
A company founded on high quality, broad access and patient service stays true to their promise that "The World is Our Family".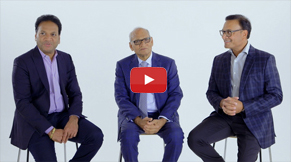 Chirag and Chintu Patel were inspired to enter the pharmaceutical industry by their father, Kanu Patel, an industrial pharmacist by training who worked as a drug regulatory inspector in India. Responsible for inspecting drug manufactures and their products in an effort to protect the public, Kanu worked to ensure that consumers had access to the highest quality pharmaceutical products. Raised on the Gandhian philosophy of truth and service, Kanu taught his sons that they can achieve prosperity though hard work and by conducting business with honesty and integrity.
The family immigrated to the United States in 1987, providing Chintu and Chirag with access to higher education and a business environment that fosters and rewards the entrepreneurial spirit. Chirag began his business pursuits with several start-ups in the information technology arena, while Chintu followed in his father's footsteps as a pharmacist. During his time as a pharmacist, generic substitution rates were less than 40% in the United States, and Chintu witnessed first-hand the struggle patients had in choose between buying food or affording their medication. The desire to provide affordable high quality medicine to patients in need triggered a passion within Chintu, and together with his father's guidance and experience and Chirag's business savvy, Amneal was born.
Chirag and Chintu's commitment to quality manufacturing, investment in new product development, and operating with honesty and integrity, has made Amneal one of the fastest-growing global generics pharmaceutical manufacturers in the world, with more than 140 US FDA approvals to market generic drugs. With capital from the principals of private investment group, Tarsadia Investments, LLC, and more than 10 M&A deals since 2007, Amneal Pharmaceuticals has grown to be the 5th largest US generics pharmaceutical company by prescription volume, with 5,000 employees across North America, Europe and Asia. Amneal's corporate culture prides itself on a shared belief that the legacy of the company is based on a strong sense of family values, and every employee is a member of the Amneal family.
Recognized for their entrepreneurial achievements, the Patel brothers continue to find innovative technologies beyond the generic drug space. Chirag and Chintu Patel have invested in five other healthcare related start-ups that focus resources on finding cures for diseases such as sickle cell anemia and cancer. They tell their story of hard work and success to inspire others to take risks in the pursuit of passion.