Product Donations
Every year, Amneal donates medications to organizations dedicated to getting these medicines to people who need them most.

AmeriCares® provides disaster relief and humanitarian medical aid at no cost to people in crisis in the U.S. and around the world. Read about some of their work here in America, in Cambodia and for the Typhoon Haiyan recovery.

Dispensary of Hope® is a charitable medication distributor delivering surplus medications from manufacturers, distributors, and providers to clinics and pharmacies serving the poor and uninsured.
Outreach
Read about some of the various philanthropies Amneal has been involved to serve the greater good.
KaBOOM!® Playground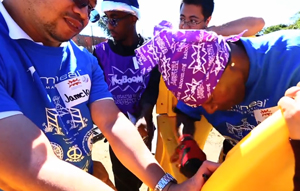 Today's kids spend less time playing outside than any previous generation, in part because only 1 in 5 children live within walking distance of a park or playground. This causes profound consequences for kids physically, socially and cognitively.
Since 2012, more than 100 volunteers from Amneal Pharmaceuticals have joined with local residents and KaBOOM! to build new playgrounds in New York and New Jersey communities.
Race for the Cure®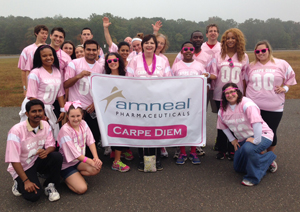 Amneal employees in New Jersey and New York team up annually for the Susan G. Komen Race for the Cure. Known as "Team Carpe Diem," Amneal participants and donors consistently raise more than $10,000 per year for this very worthy cause.
Relay for Life®
Amneal's New Jersey facilities gear up each year for the American Cancer Society's Relay for Life event, an overnight community fundraising walk.
Habitat for Humanity®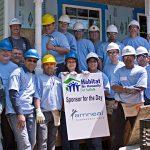 Amneal joins Habitat for Humanity because it believes that every man, woman and child deserve a safe and affordable place to live. Every year, Amneal New York
employees strap on their tool belts and hard hats to help build a home for a deserving family.
Sponsorships
Amneal proudly supports numerous worthy organizations across a wide range of categories and industries with sizable sponsorships and endowments. Below are a just a few examples:
Family Reach®
Amneal's continued commitment to supporting families fighting cancer has been evident in its support of key institutions and programs focused on addressing this disease. Some of these beneficiaries include Memorial Sloan Kettering Hospital, Family Reach Foundation NJ Golf Classic and 5K events. The company has been involved with the organization for a number of years with an Amneal executive working previously as an original member and ambassador, and now proudly serving on the Family Reach Board of Directors. Learn more about Family Reach at http://www.familyreach.org.
Hauppauge Industrial Association of Long Island (HIA-LI)
As one of the largest employers of the Long Island community, Amneal takes great pride in contributing back to local community through the sponsorship and participation in HIA-LI. This organization is the recognized voice for business in Long Island and an influential engine for responsible regional development.
The Indo-American Pharmaceutical Society (IAPS)
IAPS is committed to high-quality pharmacist care and restoring, maintaining, and promoting the health and well-being of the people they serve. Sharing common roots from India, CEOs Chirag and Chintu Patel regularly support the IAPS through program sponsorships and participation.
National Association of Chain Drug Stores (NACDS®)
The NACDS Foundation® provides scholarships for deserving pharmacy students and supports continuing education programs to further address patient centered care in the community setting. Amneal proudly supports the NACDS Foundation through donations to its Scholarship Fund and by regular sponsorship of its fundraising activities.
Glasgow High School
Amneal's support of Glasgow High School's Academy of Heath Sciences in Glasgow, Kentucky, assisting the local youth to explore potential STEM vocations that would otherwise be unfamiliar to them. The company's annual contributions deliver crucial lab equipment and supplies to sustain this vital academic program.
Charitable Foundation Support
Niswarth Children Foundation
Founded by Chirag and Priti Patel with support from Kanu Patel and family, the Niswarth Children Foundation aims to provide education along with essentials such as purified drinking water, nutraceuticals, and hygiene to underprivileged children in India. Since its inception in 2013, the foundation has reached as many as 80 schools in the Gujarat province with its donations of first aid kits and has provided water systems, school clothing, equipment, and transportation to 14 schools, benefiting more than 3,500 school children. Additionally, Niswarth has provided a number of scholarships for college students in need.
Irada Foundation
The Irada Foundation is a non-profit charitable organization, established by Chintu and Falguni Patel, which focuses on helping communities in the areas of health and education. One of the foundation's core programs is the promotion of cancer awareness and support. One of its initial efforts was conducting breast cancer screening camps to benefit approximately 250 women in India. The screenings included diagnosis, treatment, referrals & linkages, pathological testing, mammography, follow-ups and maintaining data records for breast cancer and other cancer-related conditions. The foundation has also provided a number of scholarships for deserving students.
Tarsadia® Foundation
Guided by the belief that all human beings have value, the Tarsadia Foundation was established in 1999 and now supports over 100 nonprofit organizations, locally and internationally, focusing on three critical areas: education, health and human services, and economic empowerment. As personal involvement by all family members is fundamental, the Foundation's board members, including individuals as young as nine-years old, actively participate in the grant-making process and community service projects.
Sri Sathya Sai Institute (SSI) – India
The Sai educational institutions have been established not only to enable students to earn a living, but also to help instill productive traits and develop ethical, moral and spiritual strength. Amneal supports the Sri Sathya Sai Institute of Education with scholarships to help provide for students who would otherwise be denied the chance to go to school.
All trademarks are property of their respective owner.